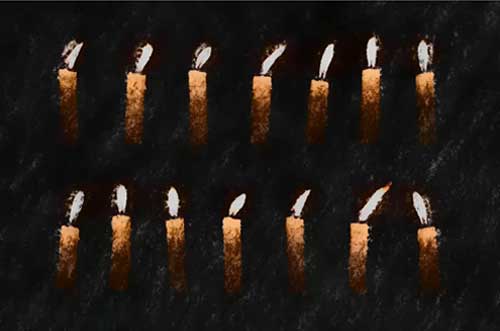 The Tragically Hip Remember the École Poly technique Massacre in Their "Montreal" Video
The band have also launched a merch bundle in support of Poly Remembers
Today marks 32 years since the École Poly technique massacre, an antifeminist mass shooting in Montreal that inspired the Tragically Hip (https://exclaim.ca/artists/tragically_hip)'s Saskadelphia (https://exclaim.ca/music/article/the_tragically_hip_saskadelphia_ep_album_review) inclusion named for the city. Now, the band are honouring victims, their families and survivors in treating the rarity to a video.
Directed by Mike Downie and Tim Thompson, the "Montreal" visuals feature portrait sketches of each victim drawn by Stew Jones, shown among performance footage and shots of the city. Further background painting comes from Gord  Downie's  daughter, Willo Downie, who also lent her artistryto the late front man's 2020 posthumous album Away Is Mine (https://exclaim.ca/music/article/gord_downie_away_is_mine_josh_finlayson_skydiggers_interview).
"We stand with the families of the 14 victims and the survivors of the femicide at École Poly technique in 1989. Today marks 32 years," the Hip write in a statement. "We fully support their ongoing effort to ban all semi-automatic assault weapons. Please visit www.polyremembers.ca to learn more and donate."
To further support Poly Remembers (https://polysesouvient.ca/polyremembers/) , the Tragically Hip have treated "Montreal" to a Flexi Disc and CD single to commemorate the anniversary.
Bundled with a T-shirt and the band's Juno performance of "It's A Good Life If You Don't Weaken" featuring Feist, all proceeds will be donate dto Poly Remembers to support families of the victims. You can purchase the package here (https://thehip.com/collections/frontpage).
"Montreal" also recently appeared in the Tragically Hip's expanded reissue of Road Apples (https://exclaim.ca/music/article/the_tragically_hip_mark_30_years_of_road_apples_with_deluxe_anniversary_reissues) ,released to mark its 30th anniversary (https://exclaim.ca/music/article/the_tragically_hip_road_apples_30th_anniversary).